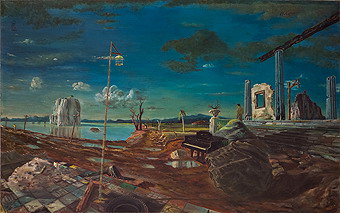 S Sudjojono
Ruins & Piano
oil on canvas
126X200cm,1966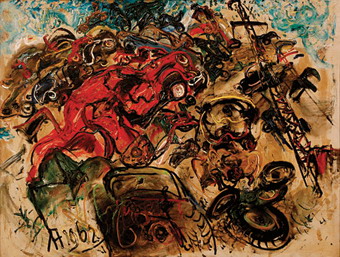 Affandi
Car Junk Yard in USA
oil on canvas
92X118cm, 1962
Affandi , S.Sudjojono , Hendra Gunawan , Basoeki Abdullah , Lee Man Fong , Widayat , Ahmad Sadali
Amongst the colonized peoples of Southeast Asia , the Indonesians were the first to awaken to national consciousness. By the second decade of the 20 th century, the idea of ` Indonesia ' as a coalition of the colonial territories of the Dutch East Indies had taken form, and the momentum of the nationalist movement was culminating in political agitations for independence.
Soon after the Japanese Occupation, o n 17 August 1945 , the Republic of Indonesia was declared . The Dutch returned to an Indonesian revolution, the vigour of which saw the transference of sovereignty to the Indonesian Republic in December 1949. Sukarno was made President of the new nation, and the process of nation building was underway.
Modern Indonesian art emerged in response to the Indonesian nationalist movement . A new generation of artists emerged to participate and engage in issues of nationhood and national identity. T he discourse of modern Indonesian art would see clashes between ideas of social relevance, and notions of subjectivity and universalism.
Fashioning Modernity examines the constituencies of modernity in the formative decades of modern Indonesian art through the practices of seven contemporaries.