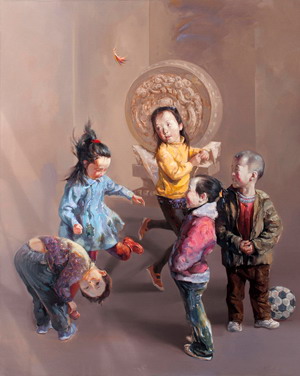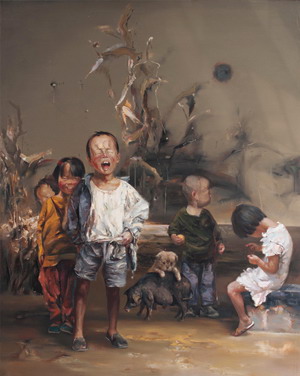 The Art Retreat Museum is proud to stage the solo exhibition of Chinese artist, Feng Lumin. 50 artworks in oils are available for viewing and the exhibition offers an insight into his talent in painting a variety of subjects. The show emphasizes on his well-received childhood series which contemplates the societal effect on children due to the economic growth of China. Behind the seemingly innocent activities of the children, his reflections are especially poignant.

Feng Lumin was born in 1963 in the Liaoning Province of China. In 2000, he abandoned his comfortable life as a geological engineer and enrolled into the Central Academy of Fine Arts. Feng Lumin was 36 years old then and it is extremely rare to see someone enter the path of an artist half-way through his life. It was while studying at the academy, where most of his fellow classmates were fine art teachers of universities, were surprised at his ability to create forms of art despite the lack of a formal training. His work titled "The Great Wall of Shanxi" is preserved by the National Art Museum of China since 2007. Feng Lumin is currently a member of the prestigious Beijing Oil Painting Society.

There was this interesting incident: in 2006, Feng Lumin's friends noticed that he was fascinated by wilted coxcomb flowers. He planted half a hectare of coxcomb flowers, harvested them, dried them under the sun, arranged them in vases, then he closely observed them. A few months later, he painted a series of coxcomb flowers which exhibited a fresh burst of sensual stimulus. Although the flowers have wilted, his paintings seem to have given them a new lease of life. Bordering on life and death for this theme, his unique approach is akin to a soulful performance of jazz music.

Feng Lumin's another series of paintings on children is a portraiture of an entire generation. His works not only show of that generation's history and reality, but also remind us of our journey from childhood to adulthood; the sufferings, naivety and resolution have all pervaded our blood stream, and that is the source of culture. In the midst of those recollections, we may begin to feel appreciation for our lives, while reflecting on our fortunes, and hoping to return to those times. Studying the path that the older generations have taken, we may clearly see what has destroyed or salvaged the most valuable part of their lives.